Singapore Hotline

+60164502380

Worldwide Support (GMT +8) Mon - Fri: 9.00am - 8.00pm
Sat: 9.00am - 6.00pm
Sun: 2.00pm - 6.00pm
P1500 Elegant POS System
P1500 Elegant POS System

POS Bundle P1500
This POS system will run perfectly and best suite for any business. Simple and effective, this will be the perfect POS System for you! Basically the POS System consists of:
Package includes:
FULL SET Software & Hardware
FREE 3 Years Online Support
One Time Payment
From SGD1428
* Price not inclusive of setup and installation charges.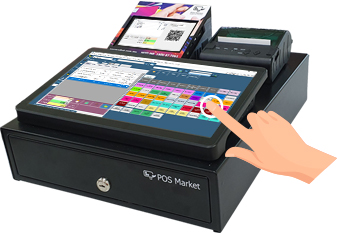 Call POSMarket today at 1 800 87 7061 to find out more about our POS Bundle P1500
QR Receiptless POS System
QR Receiptless POS System allows retailers to store purchase receipts the smart way. Customers just scan the QR code provided on the POS Market Customer Display to capture the digital copy of the full itemized receipt and store it in their mobile device. As simple as that! Retailers can save on paper costs and increase profits.
With the option of claiming and saving a digital copy of the QR receipt, the receipt can be saved for a long time without worrying the printed text wears off. The digital QR receipt can be shared among friends during a group purchase or upload to your HRM system to submit a claim.
Along with the purchase information, retailers can utilize digital QR receipt footer by adding text based promotional info and advertisements, all while saving paper.
Mini, Budget and Powerful
We design POS System with a main vision, versatility. It is the combination of point of sale, inventory and membership system in this 11.6 inches touch screen device. This full set POS system can be setup and configured for businesses in various fields.
With POSMarket P1500 you will have an outstanding performance and enhanced customer experience.
The performance plus NEW elegant design of POSMarket P1500 makes it a perfect fit for any business industry such as restaurant, cafe, retail shops, popup stores, bookstore. Run your inventory system and customer records easily through 11.6 inches Touch Screen. This gives great flexibility in serving your customers while keeping costs low for all merchants like you.
H
LAN
I
DC 19V
J
Serial Port
P1500 Specifications
System
Display
11.6" resolution 1920x1080 IPS with 10 touch
CPU
Intel Core i3-5005U
CPU Speed
Up to 2GHz
RAM
8GB
Storage
180GB M.2 SSD
Operation System
Windows 10 Home (License is included)
I/O Ports
Micro SD Slot
x1
USB Port
Type A USB 3.0 x4 + USB 2.0 x2
LAN Port RJ45
x1
Audio Output
x1
HDMI Output
x1
Other Ports
RS232, VESA Holes
Communication
WiFi
802.11 ac/a/b/g/n
Bluetooth
Yes
Power
Adaptor
12V 2A
Battery
N/A