Singapore Hotline

+60164502380

Worldwide Support (GMT +8) Mon - Sat: 9.00am - 6.00pm
Sun: 2.00pm - 6.00pm
BMO Cloud Solutions
BMO Cloud Solutions
Manage Your Business in the Cloud
Manage your people, money, customers, suppliers – even your entire business – in the cloud with the most comprehensive cloud computing portfolio in the market.
Our POS system is capable of sending data online. BMO (business management online) is a cloud platform where all the POS terminal can sync their data to our BMO platform. The BMO platform is a cloud application where it connects to the back-end database to display, view, and do all sorts of administration on the data. Later the data can be sync back to the offline machine. For example, the admin can change the price at the BMO platform, and then the data will be reflected in the POS machine.
The administrator can log in to the back-end system at posmarket.com.my or bmo.my. There are no setup fees or any hidden fees for the cloud server system. You will need to pay only for monthly subscription fees.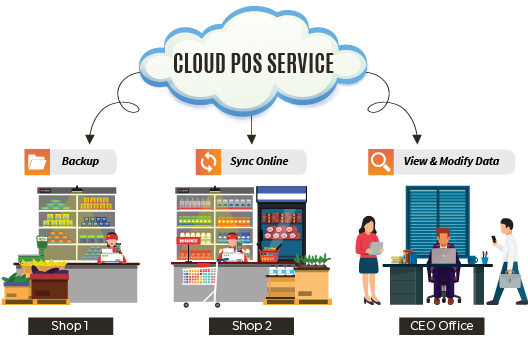 Backup
Database backup for Peace of mind. With BMO online POS System, you do not have to worry about backing up. Get your staff from all branches to perform data sync daily for database safekeeping.
Sync Online
Real-time database synchronization from all outlets will take place when you subscribe BMO Online POS System. Once you have synced your offline POS Terminal to the online POS system server, the data will be kept securely with us. Our server backed-up daily and mirrored to 3 sites for disaster prevention.
View & Modify Data
You can access your real-time inventory level, sales, and report from your laptop, tablet, and mobile devices. Adjustments such as price and item code will be reflected after the sync is complete.

Sync for backup online.

Restore online database.

Offline POS System backup.
---
Manage Your Business with Cloud POS System
Run your business from your phone, tablet, laptop, or POS. Our team considers mobility. We figure out the need of accessing your Point of Sales System anytime. You can monitor your store, edit items, and even access to the footage of your surveillance cameras.
View, edit, receive or add a new item on the go – access to the cloud. No software required from your computer or mobile devices, it works fine with a web browser.
Track your business growth
Retrieve your sales report and track your business growth. Pay monthly, with no string attached. Subscribe longer to save more.
Access from BizCloud Apps
BizCloud App is available in Android and iOS. Have full control over the way that works best for your business – anytime and anywhere without a web browser.
Managing Your Data Online
You can manage the POS system data online means doesn't mean that your shop has to go online every time, but they can hook to the internet and sync the data online when necessary. Once you have all the data, there are a lot of operations or management can be done online.
Add new items, stocks, price, cost.
Modify items quantity, price, descriptions, etc.
Check item transactions, on-hand quantity, receive new items, and adjust quantity.
Check all the sales reports, profit reports, etc.
Create vouchers, promotions, members category, item category, etc.
Create new employee and attach working pattern and check attendance.
Create contacts, view and modify contacts, and search for contact history.
Manage multiple branches from one page.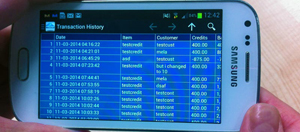 ---
Cloud-base POS System Subscription Rates
Pay as low as RM 60 per month to have full online control to your store. Please view the table below for price.
Currency
Malaysia Ringgit (RM)
Singapore Dollars (SGD
POS Station
Monthly / Station
Pay 1 month
Pay 12 Month
(SAVE 20%)
Monthly / branch
Pay 1 month
Pay 12 month
(SAVE 20%)
1
100.00
100
960
34
34
320
---
Additional Backup Function with Thumbdrive
About POS System Additional Backup Function
POS System Additional Backup Function is very useful as it helps you to save space in your system while backing up important data. It is utilized with an 8GB USB Flash Drive, hence your backup data will be portable. You can transfer the point of sales systems data from one computer to another. As it serves as alternative backup storage for important documents, it is the best solution to avoid data loss.
Note: Additional backup function is only available after customers subscribe to an additional backup license key from the POS provider.
Recommended Hardware
To use this Additional Backup function, an 16GB USB Flash Drive is recommended as the external backup drive. The thumb drive will be provided when you subscribe tp the Additional Backup function.
16GB USB Flash Drive Specification
Fast Transmission Speed
Excellent Quality
Easy to transfer files between computers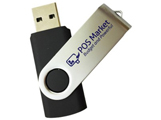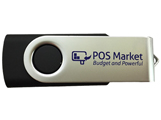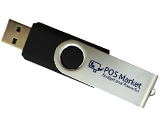 Price: RM50
Including Extra Backup Function with Flash Drive
How to use POS Backup Function
| | |
| --- | --- |
| Step 1 | Open POS Client and go to the "Settings" button. This is to make sure that the "Backup" tab is available. Refer to the "Backup Tab" screenshot. |
| Step 2 | Close the window to go back POS Client Login Interface. Click on the "Activated" button. You will see your Serial Number. Send us this serial number so that we are able to activate this additional backup function for you. Refer to the "Activation Number" screenshot. |
| Step 3 | You will be informed when the Serial Number has been activated. |
| Step 4 | Go back to the "Backup" Tab. Connect Mobiweb 16GB Flash Drive to your computer. |
| Step 5 | Click on the button (highlighted in blue) under "Extra Backup Folder" and select the port connected with Mobiweb 16GB Flash Drive. Refer to the "Select Backup Folder" screenshot. |
| Step 6 | Once the folder is selected, click on "Save" on the top left corner and then click on "Backup Now" to backup your data into the Flash Drive. Refer to the "Save Copy in USB" screenshot. |
| Step 7 | Go to your "Computer" to check if the backup folder has been saved. Refer to the "Backup File Saved" screenshot. |
---
Recommended Payment Method
Payment Methods

NOTE: Please request tax invoice within 7 days

Bank-In
NOTE: Please send or fax the Transaction Receipt with your name, contact number & state "Att: POS Market"

Make your payment to:

Bank: Public Bank Berhad
Account Name: BizCloud Asia Sdn Bhd
Account Number: 318 5907 931
Currency Accepted: MYR
Branch: Unit 1-3-31, i-Avenue, No. 1, Jalan Tun Dr Awang, 11900 Bayan Lepas, Penang, Malaysia.
Swift Code: PBBEMYKL
Call-In
BizCloud Asia Sdn. Bhd. (1057232-T)

Malaysia Toll Free: 1800 87 7061
KL Office: +603 2780 3880 | +603 7980 1388
Penang Office: +604 642 0621
Johor Office: +607 361 8927
Mobile Phone: +6014 602 8442 (KK Leong)
WhatsApp: +6016 450 2380
Email
sales@bizcloud.asia
---
Client-Server POS System
For corporate that needs POS real-time update to headquarter, BMO POS client-server version is capable of supporting client-server network structure.
The setup of the POS client-server edition will be as follow:
One server running Microsoft SQL desktop version or server edition depends on the customers' needs.
Multiple POS system that is running anywhere and connect to the server via an Internet connection.
A headquarter administration application to view and admin all the branch's transactions.
The database is viewable.
User can design their report using the provided reporting system
There is no limitation for the number of POS stations that can connect to the server.
There is a headquarter application for headquarter to view transactions from multiple branches. All of the applications are running on windows platform.
All our modules and system work perfectly with the client-server structure.
Advantages

Real-Time Update
All information such as receipts, transactions, petty cash, invoices is posted to the server in real-time. The administrator application shall be able to view all the transactions in real-time. The speed of posting to the server is depending on the client's internet speed.
Many POS Terminal
You can connect as many POS terminal to the server as you like. Ideal for multiple POS terminals in supermarkets and multiple branches.
User Design Reports
You can use the report designer to design any report. However, you should have sufficient IT knowledge to build an appropriate report
Suitable for

Supermarket with multiple POS Terminals.

Food and Beverages with multiple POS Terminals. Click here for example.

Retail Store with multiple POS Terminals.