Singapore Hotline

+6583010483

WhatsApp

+60164502380
Worldwide Support (GMT +8) Mon - Fri: 9.00am - 8.00pm
Sat: 9.00am - 6.00pm
Sun: 2.00pm - 6.00pm
POS System for Salon
POS System for Salon

The Beauty Salon POS or Salon POS System is a carefully designed pos system for beauticians and people of the industry to fully support all beauty salon businesses at the start up stage right up to expansion into a full blown industry influencer.
The features are extensive and can range from salon invoicing, beauty parlour invoice system, nail spa cash register system and even hair salon simple receipts. The system also supports spa pos transaction records while allowing for salon appointment deposits and salon booking prepayment for a better pricing deal for long term clients.
This allows for
salon staff commission
and a convenient
booking system for wellness centers
. Based on the accounting system in Malaysia, the module is equipped with
salon spa with SST
.
If your outlet need more than one POS terminal, you will need to use client and server setup or cloud based setup. Other than that all the features are the same. Read about client server setup
HERE
, read about cloud based setup
HERE
.
Need SQL Accounting software to improve your business flow? Do have a look on all SQL Accounting modules that benefits your business.
Membership Discount
You can attach membership to a contact. Then you can set the members to enjoy special prices for your beauty salon products.
Shop Layout
Select the theme as "Saloon" and the tables will turn into chairs. The chairs will be occupied if there is a receipt attached to the chair number.
Appointment and Reservation
BMO POS System for Salon comes with a built-in appointment and reservation scheduler. You can make an appointment and the system will alert you before the appointment. Once the appointment issues a receipt and makes a complete payment, the appointment is consider closed.
Service by Commissions
It is a common practice for beauty salon where the beauticians will get commissions for their services done. Using our POS System for Salon, you can automate that by configuring the employee setting. This can be set as employee commission at our human resource management system module.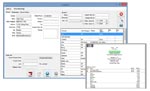 Customer Contacts
As a beauty salon owner, keeping your customer's contact is one of your main priorities. You can insert your customer's name into POS system for salon contact database. Then you can retrieve customer data from database easily. You can also put your customer's name on to the receipt for easy reference. The contact can be used when make appointments or reservations, turning them into your long term customers.