Singapore Hotline

+6583010483

WhatsApp

+60164502380
Worldwide Support (GMT +8) Mon - Fri: 8.30am - 8.00pm
Sat: 9.00am - 6.00pm
Sun: 2.00pm - 6.00pm
POS System for Salon
POS System for Salon
POS System Setup for Beauty Salon
BMO Salon POS System is carefully designed for beauty industry shop owners such as hair salon, nail spa, beauty salon and so on.
We have customers using Salon POS Centre in their beauty salons. There are a few key things for beauty salons that can be configured easily via BMO POS System.
Besides recording your shop's daily cash transactions, the POS terminal also provides comprehensive sales reports and are readily available for your analysis. BMO POS System will help your business grow and increase profits.
New! View POS Bundle Beauty Salon HERE
If you have any special requirements for BMO POS System for Beauty Salon, please do not hesitate to contact us and share with us. We are not only selling the POS software but we are also the developer of the POS software and hardware.
Singapore: +65 8301 0483
JB Office: +607 3618927
KL Office: +603 27803880 /                   +603 79801388
PG Office: +604 6420621
Membership Discount
You can attach membership to a contact. Then you can set the members to enjoy special prices for your beauty salon products.
Shop Layout
Select the theme as "Saloon" and the tables will turn into chairs. The chairs will be occupied if there is a receipt attached to the chair number.
Appointment and Reservation
BMO POS System for Salon comes with a built-in appointment and reservation scheduler. You can make an appointment and the system will alert you before the appointment. Once the appointment issues a receipt and makes a complete payment, the appointment is consider closed.
Service by Commissions
It is a common practice for beauty salon where the beauticians will get commissions for their services done. Using our POS System for Salon, you can automate that by configuring the employee setting. This can be set as employee commission at our human resource management system module.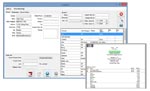 Customer Contacts
As a beauty salon owner, keeping your customer's contact is one of your main priorities. You can insert your customer's name into POS system for salon contact database. Then you can retrieve customer data from database easily. You can also put your customer's name on to the receipt for easy reference. The contact can be used when make appointments or reservations, turning them into your long term customers.