Singapore Hotline

+60164502380

Worldwide Support (GMT +8) Mon - Sat: 9.00am - 6.00pm
Sun: 2.00pm - 6.00pm
Bookstore BMO POS System
Bookstore BMO POS System

FREE 6 Months Cloud Subscription
FREE Open / Closed Sign
FREE POS Market Webcam
FREE Children Workbook
Packages include:
FULL SET Software & Hardware
Comes with Inventory System
FREE 3 Years Online Support
One Time Payment
Upgrade to Full HD Touch Screen +SGD196
Free 1 Gift with Every POS Bundle Purchase (Subject to availability)

Toys Cash Register
Dessert Shop
Portable Drill 12V
** QR / E-Wallet Payment Terminal OPTIONAL
*click to view large image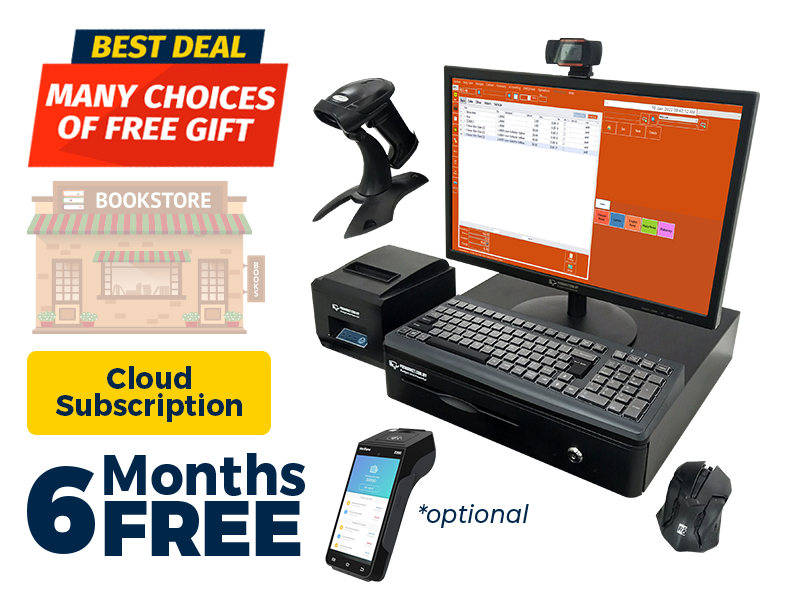 *click to view large image
Bookstore POS System Features
Call POSMarket today at 1 800 87 7061 to find out more about our Bookstore POS System
The Bookstore BMO POS or Book Inventory BMO POS System was created to successfully support booksellers and book publisher's inventory systems organize sales, manage stock, and efficiently run a business, targeting profit. The book sale promotion BMO POS software generates an online invoice for book orders and can handle a textbook voucher system plus author database and author contact list system. An important feature to mention is the POS invoice with ISBN records that can keep track of book consignment record systems, book catalog coupons, online receipts, and more.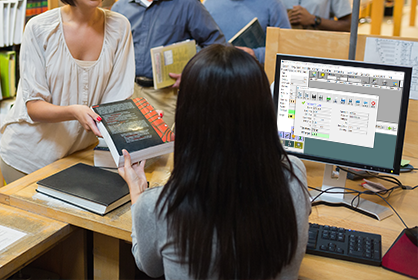 The efficient BMO POS System for Bookstore will enable you to keep track ISBN database and other add-on stationery products.
Stock alert – for under-stocked products or items on the threshold level
Seasonal items – easy to segment books, gifts, and stationery by season and promotional offering
Low selling products – easy to mark down slow-moving titles
Items on Consignment– easy to identify book titles and other products on consignment
Barcode system – book inventory management with barcode system allows titles to easily be found without having to physically search for titles
Multi-location support – the inventory system also runs on a multi-location system. Staff can search for a particular book via the shop's inventory system to check on the availability of a certain book at all branches.
Author & Publisher code inserts – we have an extensive system that allows for various columns to be filled, making it easy for bookstore owners to key in author and publisher codes. This helps with the search process, besides stock and order forms.

The Client Database & Membership system helps you keep track of your return customers and offer them book titles that are skewed to their interests. An easy to manage book club can also be initiated through the customer database as a customer loyalty program.
Book club – an easy to manage initiative that can be run locally and used to push the slow-moving title
Membership features – various features such as FREE delivery for bulk purchases can be part of the membership feature
Customer loyalty program – keep track of customer's buying habits and inform them of new titles they might like or duplicate titles they may already have
Special orders – add certain special book orders to the special order list to make these top priority
Frequent buyer & discounts – enroll customers to frequent order list to let them enjoy larger discounts that are applied automatically
Client Preferences – easy to check on client-specific needs and suggest further treatment/ service
Loyalty Points – easy to reward clients with discounts, vouchers, coupons and loyalty points
Client Lookup – systematically stored client database by first name, last name, mobile number, occupation, address, category and more

Give your clients various options when paying for your books and gift items.
Apply discounts – easily apply discounts during promotional and sales period. If you need to have a Bargain Bin sale on slower months or for slower moving titles, it is easy to tag these books and mark them for the specific promotional price.
Easy bar coding – look up products and services with easy barcoding system
Gift card look up – allow for clients to pay via gift cards received or purchased
Multi-payment methods – allow for customers to pay via cash, debit or credit cards
Loyalty Points – let customers collect loyalty points in exchange for cash vouchers, gifts, and other options
Multiple products – allow for multiple products under one single bill or separated
Voucher, Coupons and Gift Certificates – allow customers to purchase, use and pay with vouchers, coupons, and gift certificates or even Government vouchers
Easy to check client history , usual treatment, and improvement
The POS Market for Bookstores has a detailed invoicing system that links with inventory management.
Simplified Tax Invoice – for retailers who generate vast amounts of invoices every day to the end customers like supermarkets, restaurants, petrol kiosks and other POS outlets
The Simplified Tax Invoice can only be used to claim input tax at the maximum of RM30.00
Full Tax Invoice – detailed with both recipients name & address
It can be used for claims more than RM30.00
Full end of day settlement report that can be emailed to the head office, accounts department among others
Easy calculations for No Show / Late Handling as well as Closed & Open bill views
Easy to use system for Non-IT persons to generate bill without any help or support
Prints directly to thermal receipt printers for 80mm receipts or normal desktop printers for A4 formats
Receipts and every sales documentation can be customized with Thank You messages
All sales documents can be customized with branding features

Don't just stop your marketing efforts at social media marketing. Email is one of the most important and still relevant channels.
Easy Integration – our system is easily integrated with our iCRM system for client management and can be partnered with other external email marketing platforms like Mailchimp and more.