Singapore Hotline

+6594492378

Worldwide Support (GMT +8) Mon - Fri: 9.00am - 8.00pm
Sat: 9.00am - 6.00pm
Sun: 2.00pm - 6.00pm
Electronic Weight Machines with POS System
Electronic Weight Machines with POS System

Portable Weighing Machine
The HX-Z1 Digital Weight Machine is the ultimate portable weighing machine suitable for small medium businesses like Laundry operations and Grocery stores, to get their business started. The model comes in 15kg or 30kg weight capacity.
The high precision load cell that enhances performance offers 4 levels of precision and has a double layered aluminium framing with an overload protector to prolong the life span of the machine. A full battery charge will guarantee a 150 hour work duration making it convenient electronic weighing machine for most businesses.This model can be connected to your PC via the RS232 port.
SPECIFICATIONS
Battery status indicator
Simple counting scale function
Alarm function for Weighing and quantity
Accuracy Class: III
Weighing capacity: 3Kg/0.1g, 6Kg/0.2g, 15Kg/0.5g, 30Kg/1g
Working Temperature:: -10°C – +40°C
Relative humidity: ≤ 95% RH
Power: AC220V 50Hz-60Hz or DC 9V/5 00mA, and DS alternatively, DS 6V/4Ah (rechargeable battery)
Automatic zero when it is on and zero automatic tracing
Integrated with RS232 Port
New plastic injection scale cover
430 material stainless steel pan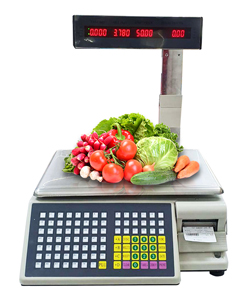 Barcode Printing Scale
TM-AA-5A Barcode Printing Scale is a reliable and efficient label printing scale suitable for supermarkets among other medium to large retail businesses. The model can store up to 16 label formats. Print inventoryand report forms manually as well as automatically. Set functions via the PC or direct from the scale.
The automatic printing with weighing functions helps make the pre-packing process more efficient. The LED screen makes it easy for both customers and operators to read.
SPECIFICATIONS
Customizable: yes
Rated Load: 30kg
Accuracy: 5g/10g
Power Supply: 110/220V
Application: Supermarket, Fruit Store
Internal 4000PLU to set 31-71 fast button
Optional RS232 or 485 interface, TCP/IP Interface
Easy to use Label format
Able to set various forms of barcode
Purchase Barcode Printing Scale
Model: TM-AA-5A
Price: SGD 604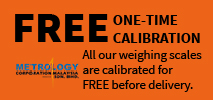 Weight Machine Wiki Guides
Weight Machine References
Connect Electronic Weighing Machine to Our POS System
Connect an electronic weighing machine to BMO POS software and receive weight data from weighing machine so you can charge your customers based on the weight of the item.
Our POS System is capable to work with RS232 electronic weighing machine to do the measurement and input to quantity field with different conversion unit available. It is very user friendly and weight can be taken in a few simple steps.
Click qty column to change the quantity value.
A new window will be prompt, now click on the electronic weight machine image icon.
Click a weight button to get the measurement from machine and click "tick" button to confirm the value
After that the value of weighting machine will be assign to POS system quantity field