Singapore Hotline

+6594492378

Worldwide Support (GMT +8) Mon - Fri: 9.00am - 8.00pm
Sat: 9.00am - 6.00pm
Sun: 2.00pm - 6.00pm
POS System with Video Streaming
POS System with Video Streaming
Setup Video Streaming for Your POS System
To view your shops online, you can connect a web cam at your POS terminal. By using the web cam, the offline POS terminal itself can record and playback the recorded video.
If you subscribed to the online POS System service, you can view the video streaming from your mobile phone or any device that has access to the internet. You can also use BizCloud Android Apps to view the video too.
However, if you are not interested in subscribing to BMO online POS System, you can still use the web cam to do offline video recording and playback at the POS station. Also, you are able to copy the video to another PC.
The recorded video is stored at your local POS terminal while the online service serves as an access point for you to view the video from other mobile devices.
Click HERE for more information.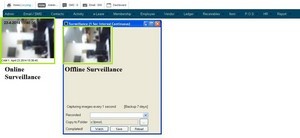 Online and offline surveillance in our POS system
Surveillance of BizCloud on Android Device
If you have any special requirements for BMO POS System, please do not hesitate to contact us and share with us. We are not only selling the POS software but we are also the developer of the POS software and hardware.
Singapore: +65 9449 2378
JB Office: +607 3618927
KL Office 1: +603 27803880
KL Office 2: +603 79801388
PG Office: +604 6420621